We recently had the privilege to work with the exceptional iGuzzini UK. Founded in Italy and now a global company, they seek to provide 'innovative illumination solutions and technically advanced lighting systems'. They have been a superb client to work with so we thought we would share our projects with you.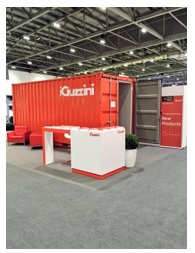 So far we have delivered three projects for them. The first was a shipping container conversion and the first time London Display Company and taken on such a task. It was a brilliant chance for the designers to create something that could highlight the lighting in quite a confined space.
This led to our second project with them, a shipping container that sat within a custom built wall and counter. Here we built on the lessons of the first project, adding in additional features to further entice potential clients.
The third project was a sleek custom Built exhibition stand – Tuneable Light lab. Here we highlighted the red branding, most notably with the typically Italian moped tucked to the side of the stand, on a back drop of clean white to create a truly distinctive stand.
We loved working with the team at iGuzzini, and here's what they had to say about us:
"London Display Company are an excellent team to work with. We first used them for a unique shipping container conversion, which was delivered to a very high standard, and have since worked with them on several tradeshows. Adam, Gary and their team have been a pleasure to work with because they are organised, bring their ideas to the table and provide an unparalleled finish. It's worth pointing out that they can work with any budget and are flexible with design changes. It's good to know we have a team we can rely on for tradeshows and events!"
Rohan Servand, Iguzzini UK
To speak to us about your exhibition stand, get in touch with us at enquiries@thelondondisplay.co.uk or call 020 8530 3667.